Caroling in the Caverns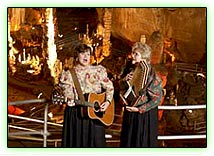 Dates for the Annual "Caroling in the Caverns" are now scheduled. Treat your family to wonderful holiday music, created from the acoustic combination of talented area musicians' voices and stringed instruments filling the air of the great Cathedral Room at Blanchard Springs Caverns, near Mountain View, Arkansas. This wonderful seasons production will begin with a performance on November 30th  at 4:30pm and December 1 at 4:30pm. Dec 8, 15, 21, & 22 there will be shows at 2:30 & 4:30 p.m. Please call 1-888-679-2859 to check schedule availability.
Also being offered, with the matinee performances only, is an "Early Bird" special walking tour of Blanchard Springs Caverns. For those unfamiliar, on the tour you will see magnificent crystalline formations, sparkling flowstone and towering columns.
"Caroling in the Caverns" ticket prices are $20.00 or $27.00 for a combination "Early Bird" tour and matinee performance. Tickets are non-refundable. This will be the tenth year and all performances have sold out every year. Cavern guides escort you into the Cathedral Room where the incredible sound of area folk musicians rises out of the semi-dark. The combination of music and Mother Nature's acoustically perfect Cathedral Room at Blanchard Caverns is "a natural". To best describe what a great experience this is, was a quote from one guest, "I was deep in the earth and yet I've never felt closer to Heaven."
Advanced tickets are required for "Caroling in the Caverns" at $20.00 each or $27.00 for a combination "Caroling in the Caverns" matinee' performance and "Early Bird" Cavern tour and can be obtained through the Mountain View Area Chamber of Commerce at  
1-888-679-2859.