Blanchard Springs Campgrounds

Blanchard Springs Campgrounds is a beautiful spot nestled in the Ozark National Forest just minutes from all sorts of fun stuff to do. Camping, caving, biking, hiking, swimming, birding, and sight seeing are available to Blanchard visitors. The campground's elevation is 400 feet and composed of one loop and a spur. They are separated by the crystal clear North Sylamore Creek. Access to the Loop is by fording the creek over a low-water bridge (inaccessible during heavy rains).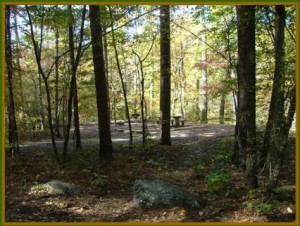 The campground is heavily wooded with a mixture of hardwoods and cedar and quite attractive with Dogwoods blooming in early April. Blanchard Springs is an excellent destination campground.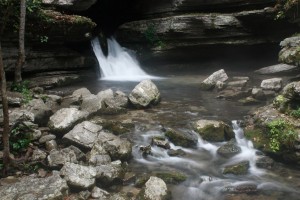 There is the Blanchard Springs Caverns, a spectacular "living" cave - a must visit. Then, in the same Recreation area, there is the walk to Blanchard Springs - a wonderful spectacle of water pouring out of the mountain side.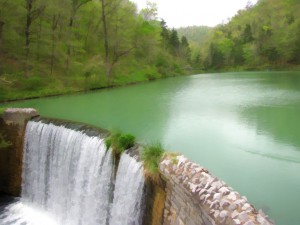 Just above and to the left of it, is the original CCC-built gatehouse - built around 1935. Also, see the natural amphitheater near the day use area, Mirror Lake on the way to the springs which offers great trout fishing and much more. About 15 miles away on State Rt. 14, near Mountain View, AR, is the Ozark Folk Center State Park.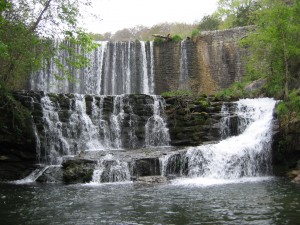 Here, many folk and gospel concerts are held. Another major attraction in the Park are various "cottages" that house live demonstrations of blacksmithing, knife making, gunsmithing, quilting, etc. There are also mini-concerts during the day of "foot stompin" folk music. This Park, like the Caverns, is lots of fun for every family member.
The campgrounds are open all year but have a maximum stay limit of 5 days from Memorial Day through Labor Day and 14 days for the remainder of the year.
Rates: $10 per day and there are a total of 31 sites that include grills and tables.
There are no equestrian campsites or RV hookups but there is a waste station with potable water.
There are handicap accessible Hot Shower and Flush Toilets available.
No Playgrounds but swimming and wading allowed in Sylamore Creek.
Great Hiking & Biking Trails
North Sylamore Creek Trail:
to Gunner Pool campground - 5 miles
to Barkshed Recreation Area - 9 miles
Sylamore Mountain Bike Trail (foot & mountain bike) - 21.3 miles
Smallmouth bass in North Sylamore Creek and stocked trout in the nearby Mirror Lake.