The Wild Cave Tour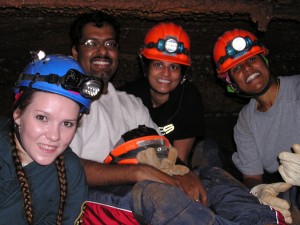 Tours by reservation only.  Call 870 757 2211 or  Click Here for Tour Info. The Wild Cave Tour where visitors go to the undeveloped sections of the middle level. This is a 3 to 4 hour tour. In order to participate with this tour you will need to be in good physical shape, wear sturdy boots, and be ready to get dirty! You will climb very steep slopes, crawl on hands and knees, pass under low ceilings, and travel through red clay. If this isn't something you are prepared for, pass on this tour. Otherwise, join in and have a blast!
The tour ends at the Titans, a group of tall spectacular columns. Participants can expect to get dirty as they crawl up and down steep slopes, squeeze through areas with low ceilings, scramble over large boulders and experience a four to five hour physical workout. They are rewarded with spectacular views of the cave, including the Titan Room (a cluster of missile-shaped formations). According to Bob Reeves, manager of Blanchard Springs Caverns, this tour is not designed to meet the expectations of an experienced wild caver. "However, participants need to be in good physical condition and supply their own sturdy hiking boots.  
Be prepared for a 4 to 5 hour physical workout!
The Wild Cave Tour is limited to a minimum of 3 but no more than 12 people per tour. Participants must be at least 10 years old. A responsible adult must accompany children 10 to 12 years old. The Wild Cave Tour is available by reservation only.  Click Here for Wild Cave Schedule