Although not open at this time, Wonderland Cave in Bella Vista, Arkansas was a sight to behold in it's day!
The Wonderland Cave opened to the public on February, 28, 1930.  The likes of Cab Calloway and Duke Ellington performed at the cave for almost thirty years.  Political and social events were also held in what was known as "The Big Cave".  Clarence Linebarger had seen clubs built in caves on a trip to Paris in 1929.
The one acre part of the cave used for events has a large & naturally vaulted chamber with a concrete dance floor.  There is an alcove for a twelve piece band, and on the opposite end a 30 foot long bar.  Wooden and stone booths surround the perimeter.  "The Largest Natural Place of Amusement in America" is what the sign read outside the cave.  400 people crowded into the club on its grand opening on March 1, 1930.  The Wonderland Cave became the largest underground nightclub in the United States.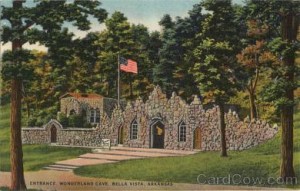 After prohibition ended, Clarence Linebarger started the Clarence Andrew Linebarger Winery in 1935.  Linebarger produced 1513 gallons of wine the first year of operation.  The wine was bottled and sold under the labels Belle of Bella Vista and Wonderland. The wine was stored in the Wonderland Cave.
By the early 60s the cave no longer operated as a nightclub, but the public could tour it for a small fee.  With the Cold War heating up, Civil Defense officials scrambled to find & create nuclear fallout shelters across America.  Three of the better known cave that became fallout shelters in the area are Wonderland Cave, Spanish Treasure Cave near Gravette, and Civil War Cave in Centerton.
Wonderland Cave was leased to Cooper Industries in 1965.  The Linebarger heirs sold the cave in 1996.  Wonderland Cave was entered in the National Register of Historic Places on January 1, 1988.  As of today, the cave is not open.
On October 17, 2010, a fire sparked and destroyed an abandoned home near the Wonderland Cave.  The house was home in the past to the Wonderland Cave's caretaker.